AUM~Sparky's
Surf Pay - Web's Cash Cows!
Complete & Comprehensive List of Surf Pay Plans!
All The Facts! Get Paid For What You Do Anyway!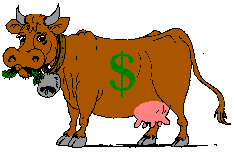 Hottest Internet Cash Cows

For maximum income join all of them, and get as many referrals as possible under you. You can even run several bars at once. It costs nothing to name your referrer, so plz give me credit! I will help those in my downline to make money.
Emailpaysu $10 Free for Joining .. then get paid for email - free website

PAY SURF DATA evaluates hundreds of Pay Bars.
AllAdvantage ...25 hours of active surfing a month with the Viewbar at $.50 per hour! Several countries included! Sends Me Checks!

ReferEveryone ... Get paid for referrals while giving away free products

Get $10 to Join PayPal .. PayPal.com is a completely free service that lets users Beam Money to anyone with an email address. Plus you get $10 for each referral, up to $1,000!

Crew-Design...Get paid $1.25 for every hour that you are online, worldwide, plus $.15 an hour referrals are online, seven levels deep!

AllPaidFor ... Search engine pays you to visit sites, plus for referrals.

AllCommunity Pays You To Surf or Read Email ..paid 50 cents/hour while the ad bar is activated, 10 cents/hour that your direct referrals view their ads, and 5 cents/hour for the other indirect referrals!

Utopiad ... Ad Viewbar - you get paid for all the time that you are connected to the net as long as you keep your "CashBar" running, based on a percentage of revenue.

CashSurfers ...earn points while you surf the internet, 10 points per banner view with Altavista worth 300 points per click, turn these points into fabulous cash and prizes! Average check was about $50!

ValuePay ..paid upto $1.00 for every hour that you or your friends are online. Earn when you Chat, send Email, or Surf or play Games!

Epipo .. earn $.60 per hour, plus 10 cents per hour referrals surf, up to 5 levels!

Ignifuge ..Get Paid Just For Using Their Start Page, we will pay you $0.20 for every ten visits of those people with the tracker active, and will pay $0.10 for indirect referrals!

CashMap ..Earn Map Dollars for responding to free offers, visiting web sites, conducting research, and shopping online. Earn a 10% bonus on all Map Dollars earned by your direct and indirect referrals. Trade in your Map Dollars for gift certificates or swap them for real cash.

DesktopHorizons ..pays up to 60 hours/month, plus multi-level referrals!

VipBenefits ..We actually pay you anytime you are online, whether you are chatting, surfing, shopping, emailing, or even checking your stock quotes.

BePaid .. users are getting between 20 cents to 1 USD for each pop up ad they view, earn 13% of their referrals compensation, and 7% of the earnings their buddies' referrals make.

Urge2Net .. maximum of $50 per month for your own surfing, and receive 10 cents on every dollar referrals earn while they are online. And receive an additional 5 cents on every dollar your extended referrals earn.

PayBar .. Pays When You Are Online Reading Ads, Email, or Whatever! $.60 Per 1000 Ads! $.15 per 1000 ads direct referral reads, and $.05 per 1000 indirect referral reads! You're referred by ID# 1401300239

Dash Shop Bar ... This shopping bar guides you to merchants, gives you cash rebates, plus has a referral plan.

INFOPOL ...Referred by ID # 000-888

DesktopDollars .. Projected pay of $.50/hour for 40 hrs/mo for your surfing, plus 40 hrs/mo of your referrals at $.10/hr, and $.02/hr for indirect referrals five levels deep.

mValue ..Lets you control your private info when surfing, you are paid for it at $.50 per hour, plus receive $50 when you sign up 5 friends. During start-up receive pay for 10 hours surfing per month. Get $.10 per hour direct referrals surf, and $.05 per hour for their referrals.

Trespass.Net ...Get Paid For Free Email! You get 1000 points just for joining and filling out a member profile, and 5 points for each outgoing email you send (points can be redeemed for cash or prizes, 100 points for each friend who joins, and 1 point for every outgoing email that they send, you get 1/2 point for every email sent by your friends of friends. Referred by aumsparky.

Making Cash ..Earn 40 cents per every hour you are using the cashbar, 15 cents per each direct referral per hour, plus an additional 40 to 80 cents per hour if you join our soon to come AP program.

PaidForSurf .. earn up to 75 cents per hour for every hour that you are online no matter what application you use, for surfing the web, checking email, using your word processor, or while you play games!

Big Referral .. Earn 20% monthly commission, plus $1 per referral, and a cut of their action.

Surf2Web ...Unlimited hours of viewbar pay, 25% of profits of direct referrals.

It Ads Up ... earns you money, when you are playing games, writing a letter, sending email, reading email, designing your dream house or finishing work brought home from the office, you do not have to be browsing the web to earn money. Whenever you are on the Net and the pcbar is active, itadsup will pay you $0.50 USD per hour, up to 60 hours per month, plus paid $.10/hr for referrals and $.05/hr for extended referrals!

SharkHunt ..You will earn 25p each hour that you have our Adbar open, plus for referrals we will pay 10p for each hour they keep the Adbar open and 5p for each hour for extended referrals!

ClickMail ... You receive 40 points when you join ClickMail + you receive 30 points for every referral who joins using your referral link. 70% of all profits go to ClickMail members

Extra Salary ..Besides the payment for your personal activity on the net (US$ 0.50 per hour, max 40 hours/month), you get $.05 to $.50 per hour per referral to 5 levels deep!

PrizeWindow ..projecting $0.45 / 1,000 prizepoints, pays while you are chatting, surfing, emailing or shopping.

SurfMiles ..Earn SurfMiles for every hour you are online with the CashBox active, at over 130 selected sites on the Net. We credit you up to 30 SurfMiles (30 pence) per hour to surf the Web with the CashBox active, and you will get credited 6 SurfMiles (6 Pence) for every hour referrals are on line PLUS a further 3 SurfMiles (3 Pence) for everyone they also recommend, and so on for the next FOUR levels.

TargetShop.com ... Remember to Enter Referral # 756380 Sign up and Receive $12.50 for every person you refer! We're building the world's largest consumer community, and you can earn cash as we grow!

Surfad.com The Revolution Is Here...We Now Pay You To Surf. ... Members share 80% of the ad revenue, with 40% going to member surfers, 20% for direct referrals, and 20% for indirect referrals.

ViewDot DotBar ...Referred by ID=sparky - Earn $0.55 per hour that you spend online with the DotBar active - up to 25 hours per month, plus $0.15 for every hour a person you referred to us is using the DotBar, and $0.10 for every hour that your 2nd level referrals (people referred to us by one of your 1st level referees) are active online.

PayDate ...Earn $5 for joining, Get in now on the ground floor! Get Paid to Date! Get Paid to Chat! Get Paid to Surf! Earn $.60 per hour, plus referrals to 5 levels deep! Know when your friends are online, with built-in chat features!

ePilot ..get paid for browsing, shopping and discovering the excitement of the Web, you make a percentage of revenues for clicking thru listed sites, up to four levels of residuals for referrals! Referred by sparky

Radio Free Cash ...is paying you to listen to the radio on your computer... and not only do they pay you, but they also pay you for the referrals who you bring to their community. This could mean serious cash for you, especially if you get in early.

Enter Name, Age, and Email to Win $500 ! ... 3 Winners Each Week! Plus Each Referral Gives Another Chance to Win!

GotoWorld ...Browser Pays $0.40 per hour, friends $0.10 per hour, associates $0.15 per hour, connections $0.20 per hour, per person!

SPEDIA IS NOT RECOMMENDED - THEY DID NOT PAY!

ClickDough ... We pay you 50% of the amount we charge advertisers for the ads that you view. For each partner you directly refer to ClickDough, we'll pay you an additional 20% of the amount they earn. For each partner they refer, you get another 10%. And for each partner those partners refer, you get another 5%, all the way through eight levels of referrals! Referred by sparky

Dollar Web .. Pays $.60 an hour plus referrals and download is available

GET PAID TO SURF THE INTERNET!! CLICK HERE Surfing2Cash ..offering $25 gift hurry! Surfing to Cash ...[Giving $25 Gifts Away!] - get paid for 40 hours of surfing per month. This includes both personal and referral surf time. You get $0.60 per hour, plus 3 to 5 cents per hour for referrals to 4 levels!

TitanSearch Make up to $16 per month surfing their sites, including referrals. [referred by 22047]

MultiKredits ... Earn 1,000 Kredits for every direct friend and 500 Kredits for every indirect friend up to the fifth referral level. Additionally you will earn 10% of all Kredits generated by your direct friends and 5% of all Kredits generated by your indirect friends. Given 800 kredits for initial survey at sign-up!

HotPrize .. Play for free and win great prizes!

SendMoreInfo ..pay you 5 cents for every email you receive, we will also pay you 2 cents for each email referrals receive!

My Points ..you earn Points for great rewards simply by reading email, shopping online, touring web sites. Redeem your Points for airline miles, fine dining, and merchandise.

DotAd ..Advertisers today are prepared to pay between $20 and $50 for you to see a thousand ads.

eTour ..rewards you for surfing with TourPoints redeemable for gift certificates or merchandise.

Test Now ..We pay people to provide feedback via surveys about websites & other concepts.

ExtremeLotto ..Costs nothing to play, increase your chances to win thru surveys and referrals.

GoThruUs ..Advertisers will pay you anywhere from US 1¢ to 10¢ for every full-screen ad you see, plus $1 per referral and $.01 for each ad a referral views.

PaysU ..Pays you for surfing, and even when you are offline, will pay you £.10 for referrals, and you £.05 for every hour that your friends and their referred friends actively use their computers whilst displaying the PaysStation.

Search Hound ..will earn commissions from the sales of banner ads, URL bids, or anything else we offer here.

Night Mail ..Each time you send out an qualified email you earn 10 points. For each person you refer to NightMail, you earn 200 points. You also get 1/4 of the points earned by your friends and 1/16 of the points earned by each of their friends.

Totale-Mail ..pay you for responding to the advertising information that we send to you, plus paid a percentage of the revenue generated by the participation of the people in your referral group, credits used to win prizes and purchase products.

SurfBuzz .. Earn points for surfing, or reading email, and for referring others. These points are used to bid on cool products.

MyAd ...Hot new program pays you to surf the web or to use your mobile phone. Get free stock shares for referring others.

Ad4Me .. Receive up to $.70 per hour, and from referrals to 5 levels deep. Plz mention referred by sparky

Banner Union ... If an advertiser pays $5 for you to watch 1000 ads, you would make 40% of it, or $2, for those 1000 ads shown to you. If you refer others, you will make 10% for 1st level, 5% for 2nd level and 3% for 3rd level.

AdsHouse .... will pay you as much as HK$1.1 cash and digital points per sponsor message you view. You get HK$1 when Each of your friends join, an extra HK$0.5 when their friends join, and More Cash when THEIR friends join!

oneSRC ...unlimited hours adbar available for download. Members earn 1 point for every ad they view. Members earn 1 point for every 10 ads viewed by their DIRECT referrals. Members earn 1 point for every 20 ads viewed by their INDIRECT referrals.

Surf Club ...Minimum requirement of 25 hours per month surf time, with 50 cents per hour being paid for your surf time, 10 cents per hour for each of your direct referrals and 5 cents per hour for each of your extended referrals going down a total of 5 levels.

Paid Zone ...For each site you visit you get paid $0.02. You may visit each site only once a day. Also you will get paid $0.01 for each site you referrals visit.

eBoodle ..cash back on purchases, plus 10% of referrals cash back, plus they will pay you $1.00 for each direct, Level 1 referral. We'll also pay you 10 cents for each indirect referral from Levels 2 through 5.

Click2Asia ... cross cultural online community offers homepage, chat, and other benefits, plus points from referrals increase the chances of winning a car and other prizes.

Value Click ..pays up to $0.25 per click on advertisements ran on your web pages.

WackyWare ..Members who visit their site divide up 10% of their profits, no purchase necessary.

eGold Free Account .. You get free stock plus referral earnings.

Point Click .. Surf within their network and average a penny every click, and turn 1000 clicks into 10 bucks, if spent within network the amount is doubled.

BlueTree .. Earn about $1.50 an hour just for being online, plus you would get 27 cents for every hour your direct referrals were online using the BlueBar.

Dollars4Mail This is great! Get $10 for signing up with this free email service, plus get paid for reading email, and for everyone you refer for reading email for 7 levels deep!

MoneyForMail ..You get $.20 - $2.50 per email PLUS 5% from direct income of members you refer!

OneSight ..you can expect an average payment of $5 per completed survey. For every friend you refer, you earn $1 for each of the first five surveys they fill out.

TwistedHumor Earn money reading jokes, every referral means 10 cents is added to your account.

AdPerks ..view ads and visit sites that interest you and earn points, at the end of each month your points are converted to CASH and you get paid. Plus earn even more CASH by simply referring others. Earn 40 points for viewing each ad, earn 100 points for visiting a site, you earn 20% of the points earned by members you refer, recently paid $9.05 per 100,000 points.

ColorStamps ..The Search Engine that Pays You Cash! You can earn up to $1 for each click and visit to an advertiser's website. You will get bonus from us in the amount of 10% of your referral's monthly earning from Colorstamps for 12 months! There is a $100 earning limit on click throughs per month.

See Our Free Money Online ...Other Great Sponsors, Affiliate, and money-making programs online.


New! Soft! Warm! Cool Leather Coats



$29.95 Great Gifts!

$34.95
PRICE BLOWOUT!
web@all-ez.com Checks or MO
Visa or MC
Use PayPal

Join Get $5!

Mini Hearing Enhancers .. Deluxe Haircut Set ..
Mens Hair Kit .... Travel Shaver .... Laser Keychains
Mini Black Light
Cool Scooters
AUM~Sparky's Mystical Stepping Stones
AUM~Sparky's Index of Cayce Readings
All EZ FreeStuff Sampler


Vote Please - Many Thanx!
[Site Index]. [Free Samples]. [Mystical Stepping Stones]. [Astounding Ancients]. [Cayce Index]
[Ani Gifs & Icons]. [More Ani Gifs]. [Screensavers]. [Free Themes]. [Giveaways & Contests]
[Free Money]. [Free Vacations]. [Free Software]. [Free Homepages]. [Free Javascripts]
[Earth-Changes]. [Mad Scientist]. [Web Goodies]. [Midi Downloads]. [Kids & Parents]
[Add-A-Link FFA]. [CGI & Perl]. [Free ISP]. [Games & Casinos]. [Shopping]. [Cayce: Magick]
[Free Shock Baubles]. [Email Accts]. [AddUrl Promotion]. [Counters]. [Web Rings]. [FSG Index]


Link to us!
All rights reserved.

Email: sparky@all-ez.com